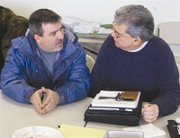 The Sunnyside City Council and City Manager Mark Gervasi met this past Saturday at a council retreat to discuss topics such as city organization and what is expected from the city manager.
The retreat started with an icebreaker, as Gervasi asked each council member to tell the rest something about them they didn't know.
For Gervasi, it was his meeting with Ralph Nader. Sunnyside Mayor Jim Restucci said he met President Bill Clinton. Council woman Theresa Hancock said she spent most of her childhood believing she was related to Sacajawea. Councilman Don Vlieger noted he met a distant relative after visiting a graveyard. For Councilman Mike Farmer, it was a test-drive given to him on a motorcycle by the late Evel Knievel.
After that little fun exercise, council got to the meat of the meeting and laid out what they expected from Gervasi.
Communications was key and council members told Gervasi he has been doing just that. Councilman Paul Garcia said he would like to see issues that have plagued the city for years resolved. He didn't go into details of what those might be.
Deputy Mayor Nick Paulakis wants to get all of the policies in place. Farmer worried about city vehicles and what guidelines might be in place to govern the private use of such vehicles.
"That's been the biggest complaint I've got," he said.
Farmer said city vehicles parked at Safeway or the speed of police patrol cars was worrisome.
Restucci said he thought it was important to have employee accountability.
For Vlieger, his expectations included responsible government, both fiscally and in the area of customer service. He also wants an aggressive revitalization project to be looked at.
Vlieger also expressed concern about the pay grade of the city's human resource person. He said her pay was never approved by the city council and wants it revisited.
Council also accepted draft copies of a code of conduct and a performance plan for employees. These drafts will be looked at and then council will discuss them further at a future council workshop.
"These are things I don't want to push on you but they are something you can consider," Gervasi said.
The retreat ended with council committed to hosting a community input meeting sometime in the spring of 2011.