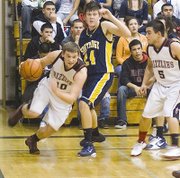 The Sunnyside Grizzly boys basketball team opened Big Nine League play with a pair of tough losses this past Friday and Saturday.
The Grizzlies lost at home to Southridge on Friday, 56-54 in overtime.
Sunnyside roared out to a 7-1 lead to start the game, and led 30-24 at the half.
But the visiting Suns chipped away at the Grizzly lead to force overtime at 50-50 at the end of regulation thanks to a lopsided 44-to-11 advantage in free throw attempts.
Sunnyside struggled to contain Southridge 6-7 center Derek Porter, who led the Suns' march to the charity stripe.
"They definitely were able to pound the boards," said Sunnyside Coach Ron Rowe. "We had a few breakdowns defensively and they shot a lot of free throws."
Southridge attempted 14 free throws in the fourth quarter alone during its rally to tie the game.
Despite the big edge in free throw attempts, Southridge connected on just 19-of-44 attempts, while the Grizzlies were 9-of-11.
But Porter took control in overtime, scoring all six of the Suns' points while the Grizzlies tallied four points. Sunnyside had a last second chance to force a tie in the extra session but came up empty handed.
Israel Manzo sparked Sunnyside with 33 points and six rebounds, while teammate Jessie Leija added six points and two assists.
Porter paced Southridge with 29 points and eight rebounds.
On Saturday, the Grizzlies were again competitive before faltering late in a 72-59 loss at Kennewick.
"It was the kind of game where they got out to a 10-point lead and we cut it to five going into halftime," said Rowe. "We got to within three points in the fourth quarter, but they hit some big shots to get some breathing room."
Though the free throw shooting statistics were much closer, 17 attempts for Kennewick compared to 16 for Sunnyside, the Lions shot a blistering 60 percent from the field.
Sunnyside was again led by Manzo with 28 points, while teammates Eduardo Salmeron and Andrew Daley tallied eight points each.
But the Grizzlies had no answer for Kennewick's inside-outside tandem of Reggie Clinton and Brice Leavitt, who tallied 29 and 18 points, respectively, for the Lions.
"Leavitt got us on some baseline cuts and Clinton hurt us with some perimeter drives," Rowe said.
Rowe said the key for Sunnyside to put its league opening losses behind it is consistency on defense and making better decisions on the court.
He noted there were crucial times in both games where Sunnyside had the ball and a chance to make a key play on offense. "But we made some bad decisions and were unable to get a shot," Rowe said.
Sunnyside (0-2, 2-4) will host a make-up contest tomorrow, Tuesday, at home against Davis.