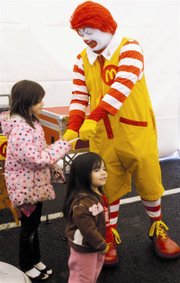 Children turned out by the hundreds to help celebrate the grand opening of the Sunnyside McDonald's this past Saturday.
McDonald's Marketing Manager Donna Revilla said she had 200 goodie bags for the children and they were all gone in the first 20 minutes.
McDonald's was celebrating a brand new building that has a more contemporary feel to it and is more modern. The old McDonald's on Yakima Valley Highway in Sunnyside was torn down in November and a new one built in its place. The restaurant re-opened on Nov. 20 and the grand opening was celebrated this past Saturday.
To help celebrate was Ronald McDonald, who gave two shows to the children. Prizes were also given out.
The new building doesn't have more seating than the older one but Revilla said the new building has a smaller layout and they are able to get more seating per square foot than they had in the old building.
The restaurant currently employs 82 employees, an increase of 20 over the last one. Sandra Sanchez, store manager of McDonald's, said she will be looking to add even more people next month.
The new building has an indoor playground, which has increased the number of children visiting McDonald's.
"We're excited with the way the community has embraced McDonald's," Revilla said. "It's been wonderful."