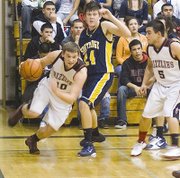 Three juvenile males were arrested at gun point by Sunnyside police after a resident on Cascade Way reported being burglarized on Thursday, Dec. 16.
The suspects were arrested outside the home and officers found a sawed-off shotgun on one suspect, handgun ammunition on another and a knife on the third. A handgun was not located by officers.
The Sunnyside Police Department also received eight theft reports over the long weekend, involving two vehicles, a rifle and various other items.
A white 1992 Honda Civic hatchback was stolen from the owner's home in the 2000 block of Allen Road on Thursday, Dec. 16. The resident woke up at 9 a.m. to discover the car missing.
The car was recovered later that day on Bridgeman Road in an apple orchard. The vehicle had been completely stripped.
Another vehicle was reported stolen in the 400 block of West South Hill Road. The caller reported her boyfriend's 1995 Chevy Blazer was taken sometime before 8 p.m., Saturday, Dec. 18.
Other theft reports included a .177 caliber rifle with scope stolen from a truck in the 700 block of Bagley Drive, a chainsaw stolen from a back yard, and a laptop and I-pod Touch taken from a vehicle, among other items.
Two hit-and-run accidents were also reported to Sunnyside police on Sunday, Dec. 19. A woman reported a silver Corolla struck her vehicle and fled the scene. The caller reported following the vehicle to the area of Allen and Waneta Road before losing them.
Another hit-and-run occurred at Picard Place where a caller reported a car struck his Kia Rio while it was parked outside the theater. The suspect fled the scene.
Over the weekend, Sunnyside police also handled 18 traffic related calls, 11 calls reporting suspicious people or circumstances, four accident reports, three malicious mischief reports, three disorderly conduct calls, three domestic violence calls, one DUI, three trespassing calls and two drug reports.
Police also received two 9-1-1 hang-ups, 14 automatic alarms, seven animal problem reports, one noise complaint, one parking problem, five agency assist requests, five citizen assist requests and a welfare check.