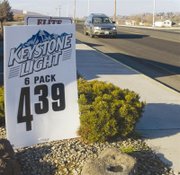 The holiday season isn't just busy for local merchants, it's also an active time for Sunnyside officials in enforcing the city's sign code.
Jamey Ayling is the city's community development manager, and he says it's been awhile since the city pro-actively enforced the sign codes on the city books.
"We've received a few complaints that things are out of control with excessive signage," says Ayling.
Some of the complaints, he adds, are from business owners who came into city hall and obtained proper sign permits.
"They say if they're not allowed to do something why are others doing it," Ayling notes.
He says the biggest sign issue here seems to be a wave of temporary signs, especially the ones with flags attached to poles and placed on sidewalks.
The city's ordinance limits businesses to just two temporary signs per street front and they must be attached to the building.
In addition, Ayling says he's heard that sometimes beverage suppliers - not store owners - are the ones who put up illegal temporary signs near the street front.
"Many store owners don't realize their vendor has them out of compliance," he said.
Ayling said in recent years the city did not budget for a code enforcement officer and used a letter-writing campaign to encourage businesses in towing the line with the sign code.
With a code enforcement officer, Jim Rivard, back on the city's payroll, Ayling says he and Rivard are now visiting businesses in person.
"We've taken it upon ourselves to revisit this," Ayling says. "It's a good time of year since weeds are not an (enforcement) issue."
Ayling and Rivard have started by visiting businesses in violation of the sign code. "Eventually we'd like to get to all the businesses," Ayling said of establishing relationships with business owners who are following the sign code.
Overall, says Ayling, the response has generally been positive when business owners find they are in violation.
During this recent emphasis, Ayling and Rivard have found 34 sign code violations. He says many business owners remedy the situation on the spot when they learn of the violation.
Ayling said no citations have been issued during the emphasis, just warnings. Next month, he adds, there will be follow-up checks on those who are currently not in compliance. Fines are $30 a day per sign in violation up to a maximum of $2,500.
He estimates only about 10 to 20 percent of store owners are unhappy about the sign code, and the need to come into compliance.
"We have run into some push back from businesses who are unhappy with it," Ayling said.
"I just tell them I'm enforcing the ordinance as written," he added. "If they are unhappy or feel they're unfairly treated, I tell them it's prudent of them to share their opinions with council."