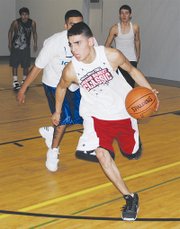 School break is in full swing, but students and parents can find plenty of fun activities at the Sunnyside Community Center to fill those long winter hours.
The Sunnyside Community Center is open Monday through Thursday during the break, from 10 a.m. to 6 p.m.
Each day, from 10 a.m. to noon, children 12 years old and younger are invited to participate in open gym. The kids get to decide from a variety of activities, including dodge ball, bowling and kickball.
From noon to 2:15 p.m., the gym will be open to basketball players of all ages. At 2:15 and until 4:30, the focus will switch to soccer and, again, it will be open to players of all ages.
From 4 to 5 p.m., the community center will also host Teen Talk, a time when children 13 to 18 years old can freely discuss school, family and friends in a safe and welcoming environment.
For adults, the community center offers Zumba fitness classes on Thursday nights at 7 p.m. The class is taught by certified Zumba instructor Juan Lares. The cost is $3 and welcomes children as young as 10 years old.
Starting the first week of January, Zumba will also be offered on Tuesdays at 7 p.m.
The community center also offers a variety of additional activities, including air hockey, ping pong and video games.
Call the Sunnyside Community Center at 509-837-2205 for more information.