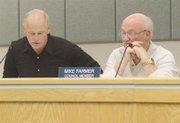 The Sunnyside City Council adopted its 2011-12 biennial budget last night, at a special meeting.
The $43,753,900 budget was tabled at the Monday, Dec. 13, meeting due to Councilman Don Vlieger's concern about the inclusion of the public works director position. Vlieger suggested eliminating the position all together.
The council passed the budget by a vote of 5-2, with Vlieger and Councilman Mike Farmer voting no. Both Vlieger and Farmer said the reason they both said no to the budget was because the public works director position was included.
Vlieger and Farmer say with the recent creation of a public works supervisor, and with City Manager Mark Gervasi reclaiming several duties previously handled by the public works director, the position isn't needed.
The council last night also reviewed a report from the special investigative committee on pay practices.
Deputy Mayor Nick Paulakis, who also chairs the committee, said they met on Dec. 16 to discuss employee raises. The committee is looking at seven employees who are suspected of receiving raises or promotions without approval of the city council.
The committee has directed Gervasi to look into the pay grade and step changes that took place, who authorized them and why the changes were made.
Gervasi will also investigate if council was ever told about these changes and what options council has now.
Gervasi will bring his answers to council on Jan. 30.
Council directed Gervasi to look at pay increases from 2005 to 2010.
After the meeting, Vlieger said there are seven positions where the salaries have jumped, causing concern.
It will be these seven positions where Gervasi will look at to see if anything improper was done. Council also agreed to give Gervasi all the outside help he needs to get this issue resolved.