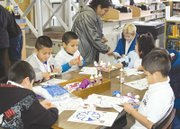 Winter break is here, the kids are out of school and the search is on for something to do.
Have no fear; the Sunnyside Library at 621 Grant Ave. has something for kids of all ages planned every day during winter break.
There is a drop-in craft time during the library's regular hours of 10 a.m. to 7 p.m. Monday through Thursday, 10 a.m. to 5 p.m. on Friday and Saturday, as well as Sunday from 1 to 5 p.m.
Marcelina Ortega is the community library supervisor, and she says children are invited to stop by any time for simple holiday and winter crafts, like making paper snowflakes.
But the seasonal fun doesn't stop there as special events are planned all this week.
Tomorrow, Wednesday, at 2 p.m. the library will provide a free showing of the movie Shrek Forever After, complete with popcorn.
"The parents are very appreciative of the movie because it's a good time for them to unwind a little bit with their children," Ortega said.
Thursday at 11 a.m. will be the library's weekly Baby Lapsit reading program, with holiday-inspired stories, rhymes and songs.
Also on Thursday at 5 p.m., the Sunnyside Library will hold a Christmas program for children and families. Ortega says the evening will include a story time, as well as Christmas carol sing-a-long, a visit with Santa, as well as cookies and milk.
A holiday theme will also be the subject matter for a story time on Friday at 10 a.m.
The Sunnyside Library closes at 1 p.m. this Friday, Christmas Eve day, and will be closed on Saturday, Christmas Day.
Ortega says there will be some special happenings next week besides the drop-in craft time, but no firm schedule has been set.
"Everyone's kind of winding down the week after Christmas," she said.
She says parents are welcome to call the library at 837-3234 to get an updated winter break activity schedule for next week