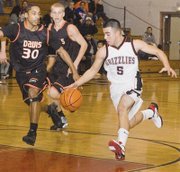 The 3A Sunnyside Grizzly boys basketball team couldn't overcome the depth of visiting state-ranked 4A Davis in a 72-60 loss last night, Tuesday.
Despite the double-digit final margin, Sunnyside was actually right in the game most of the way.
The Grizzlies trailed just 18-15 after one quarter and 34-29 at the half. The Pirates led by eight points after three quarters, 55-47, but Sunnyside stayed within four to six points throughout the final quarter.
The Grizzlies trailed by seven points with two minutes left in the contest, but Davis finally sealed the deal with a 5-0 scoring run the rest of the way.
Sunnyside Coach Ron Rowe said it came down to Davis having too many scorers.
"They've got quite a bit of firepower," Rowe said of the Pirates. "We held their leading scorer (David Trimble) to eight points and he didn't score in the fourth, but in the end they had too many people involved in their scoring."
The Pirates ended up with four scorers in double figures, led by Davonte Luckett with 19 points, 12 of them in the third quarter.
In the pivotal fourth quarter, Davis found other heroes as Marcus McClurkin and Jackson Marquis combined for 12 points in the final stanza on the way to scoring 13 and 11 points, respectively.
Aramis Carter was the other Pirate in double figures with 12 points.
Sunnyside was led by Israel Manzo with 26 points and six rebounds. Teammate Brandon Daley added eight points to go with a team-high seven rebounds. Trey Serl also scored eight points for the Grizzlies, and teammate Greg Spini added six points.
Jessie Leija helped pace the Grizzly offensive attack with eight assists to go with three points.
Luckett led Davis in the paint with 11 boards.
With a week off for Christmas, Rowe said his team has some success and challenges to build on as it prepares to host 2A East Valley next Wednesday, Dec. 29.
A challenge, he notes, is doing a better job of defending shot attempts from the free throw line area, as Davis shot better than 60 percent inside the arc.
"They hit a number of shots from the free throw line area in the third and fourth quarters," Rowe said. "We didn't address that real well and as a result we were slow in covering that area."
On a positive note, Rowe said Sunnyside (0-2, 2-5) did its best job yet of pounding the ball inside.
"We did pick up our inside scoring," Rowe said. "We had 29 points from inside players. That was our best output so far this season."