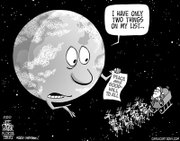 Wow! That's all I can say. The difference between how the Piper Cub views this Christmas compared to the last one is amazing. It's starting to be what I thought it would be like.
Christmas was my favorite holiday of the year growing up. The reason is simple, it meant presents. I know Christmas means so much more than that, NOW. But back then, it was mostly the presents.
I can remember the feeling of anticipation as the days before Christmas were checked off. Sometimes the anxiety could be too much. I couldn't wait for the day I could open my presents. I remember doing a daily, sometimes bi-daily, counts of my presents.
Presents are presents, which mean some are better than others. I can't remember all of the presents I received when I was young, but a few stand out. I remember my first stereo and my first Iron Maiden album, Power Slave. I remember the Steve Austin Six Million Dollar Man action figure I got one Christmas. I wore that thing out.
Now it's the Cub's turn. Last year, when she was three, Piper was intrigued by Christmas, she knew who Santa was and had watched Frosty the Snowman and Rudolph the Red-nosed Reindeer.
But it was all new to her and she didn't quite get the general purpose most kids think represents Christmas, which are presents. After wading through last year's Christmas, she now understands it fully.
She started asking about Christmas before Thanksgiving had even arrived. Her first clue was all of the decorations around town. On a daily basis I had to explain to her that Christmas wasn't until after Thanksgiving and that holiday hadn't even arrived yet. She wasn't deterred and kept up her daily inquiries.
My daughter is like most 4-year-olds. When she meets someone for the first time she's shy. She'll put her head down and move closer to either myself or my wife. Fifteen minutes later, she's her normal self, which includes talking non-stop.
This scenario played out a few weeks ago at a relative's house. She had met them before but it had been a few months since she had seen them. Piper was going through her routine when my uncle asked her what Santa was bringing her for Christmas.
Immediately she shed off her shyness and started listing the things she expected Santa to bring Christmas Eve. It was funny and more importantly, it told me she was dead serious about Christmas.
Now the presents have started arriving in the mail and are getting stacked in the house. This drives her crazy and she can't wait until Christmas comes so she can open them. She has her heart set on a Barbie DVD.
It's all fun to watch. It's fun to see her get so excited about Christmas. She's recently learned about Jesus so once she realizes the connection, she'll probably love the holiday even more.
But for now I'm just enjoying the fun and I expect it to begin in full on Christmas Day. I only have a small window to really enjoy this. Right now she actually believes in Santa. I was startled the other day when she asked me how Santa was going to get into our house because we don't have a chimney. I never even thought about it. Why would I?
But she had and was looking worried as she scanned the top of our roof. Only parents will understand this, but that was one of those priceless moments that come with being a parent.
And I'm expecting many more.