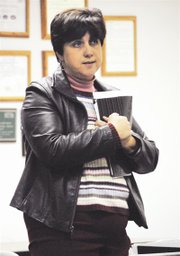 The Sunnyside School Board gave district administrators approval to move ahead with a grant application that could bring in a health care center for Sunnyside students.
Sunnyside School District Superintendent Richard Cole revealed that recent health care legislation will take away money used for drug and alcohol intervention.
Because of the many health-related problems facing Sunnyside students, the district is looking to team with Sunnyside Community Hospital to provide a health clinic that can fill their needs.
A health center would help students fill in gaps in student health services and provide a focal point for students seeking drug and alcohol intervention, pregnancy care or prevention, general health care and immunizations.
While the idea is still in the early stages, Sue Jetter and Sandra Linde from Sunnyside Community Hospital have been working on putting together a grant proposal that could bring this health care center to Sunnyside.
Linde revealed that the application is due Jan. 12, but the district could find out if they received the grant as early as March. From there, it is plausible the health center could be breaking ground in August.
The land for the health center would be provided by the hospital, but details as to who would own the building are still being worked out.
Cole reiterated that the health center, in collaboration with Sunnyside Community Hospital, is the place where they will be able to "continue to solve the drug and alcohol issue for our kids" though the facility would meet a wide range of student health needs.