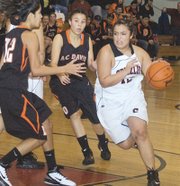 A mistake-prone Sunnyside High School girls basketball team hosted the Davis Pirates last night, losing 68-45 to the bigger 4A school.
Sunnyside lost for the seventh straight time this season, mostly due to costly mistakes. The Lady Grizzlies were given 21 attempts at the free throw line last night and converted on only eight. On the other side, Davis was given 33 attempts at the charity stripe and converted on 24 of them.
Sunnyside also committed 35 turnovers in the game.
"Davis is very aggressive on defense," SHS Coach Rick Puente explained. "They pressed us for most of the game, which caused most of our turnovers. Offensively, they (Davis) like to get out and transition."
Davis led 18-10 after one quarter and 31-18 at halftime. The Pirates padded their 13-point lead by 10 points in the second half.
"Free throws and turnovers are what we are currently going over every day in practice," Puente said. "We want to be aggressive but not force the issue."
Davis also gave the Lady Grizzlies fits with the way the Pirates moved without the ball. Puente said the Pirates' post players would constantly find open players to feed the ball to. When Sunnyside moved to defend the Grizzlies would usually commit a foul, which sent the Davis player to the line.
"We'll be working on that today, trying to be aggressive on defense without committing the foul," Puente said.
Despite the mistakes and the loss, there were some positives that came out of last night's game.
"We're putting the ball in the bucket," Puente said. "We turned the ball over 35 times but we still scored 45 points. We're starting to click, but we need to find a way to keep ahold of the ball."
Puente said he was pleased with the play of Addi Palencia, who scored nine points for Sunnyside last night.
"She's great on defense and aggressive on offense," Puente said. "She's doing the little things that are paying off for her."
He also pointed out the play of Melissa Amaro.
"She plays hard the entire game," he said. "She's so aggressive. She finds ways to get the ball into the open court and get buckets. We look for her leadership on the court."
Amaro led the Grizzlies with 11 points.
Teammate Vanessa Alvarez scored six points for Sunnyside, as did Priscilla Bermudez. Audi Sanchez added four points for the Lady Grizzlies. Sammie Reyes and Ruby Herrera each had three points. Kaylynn Jongsma added two points and Sydnee Hernandez finished with one.
"We're working hard and starting to gel," Puente said. "We need to get over a couple of things in our game. Once that happens, the benefits will show pretty soon."
Sunnyside (0-2, 0-7) will host East Valley on Wednesday, Dec. 29, at 5:45 p.m.