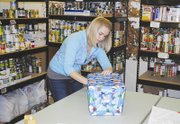 Parishioners of St. Joseph's Catholic Church in Sunnyside adopted 23 families for the holiday season and are prepared to help many more through their food bank.
Volunteers on Monday were busy wrapping gifts, preparing food boxes and arranging donations that would be distributed to 23 needy families for Christmas. Families looking for help this holiday season signed up for the program through the Catholic Church or through Nuestra Casa.
Brenda Veiga and Lola Webb, a dynamic duo who have organized the holiday adopt-a-family donations for more than 10 years, were very careful in selecting the families they would aid. They visited each family at their home to ensure the gifts were going to people in real need of additional holiday help.
Church members became involved by selecting a tag from the "Giving Tree" and agreeing to purchase a gift for the child described on it. Each tag featured information on a child from one of the 23 families. It listed their age, their clothing size and gift ideas.
Veiga and Webb revealed that 115 tags were placed on the tree this year. They were concerned that some of the tags would not be selected as many people are wary of giving this holiday season because of the struggling economy. But when they performed a final pass over the tree, they were pleased to discover that every tag had been selected by a church member.
While each child in the 23 families will receive a gift this Christmas, the parents will receive two boxes of food and chicken to prepare a proper holiday meal.
The canned and prepared food drive that helps stock St. Joseph's food bank brought in a record amount of donations for the holiday season. Veiga reported that the donations weighed a full ton.
"We've been very blessed this year," Webb said. "We'll be able to do so much more for our families."
The donations the food bank received came from local schools and Veiga was pleased that teachers took the time to teach their students about the importance of giving.
"This drive teaches students to give," Veiga says, "and that is so important in helping to form good leaders in the future."
Youngsters responded in other ways, too, such as Paola Campos from Sierra Vista Middle School and Xavier Cortez from Sunnyside High School, who were both on hand this past Monday afternoon, wrapping gifts and organizing food boxes. Washington State University students Corrin Veiga and Julie Wedam also happily volunteered part of their winter break to help with the project.
The gifts and food will be delivered to the 23 families later this week, but the food bank is open every Thursday from 9 a.m. to noon all year round to help other families in need.