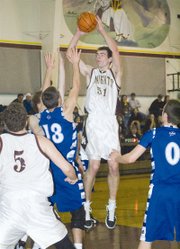 Despite playing a very physical 1A LaSalle Lightning team last night at home, the Sunnyside Christian Knights blew out the visiting team in the first half and then coasted to a 76-40 non-league win.
"The boys did a great job of seeing the court last night," SCHS Coach Dean Wagenaar said. "LaSalle is a very physical team. They make you earn it."
That's exactly what the Knights did last night, earn it. SCHS, a 1B team, dished off 17 assists in the game, which Wagenaar said led to direct buckets for his team.
"We played well," he added.
SCHS built an eight-point lead through the first quarter. In the second quarter the Knights shut down LaSalle's post presence, which allowed SCHS to focus on defending the outside shot. SCHS outscored the Lightning 20-4 in the second quarter to post a 39-11 halftime lead.
LaSalle managed to hang with SCHS in the third quarter but couldn't put a dent in the Knights' 28-point lead. By the time the fourth quarter started SCHS led by 29 points.
SCHS opened the final period with an 8-0 run, with Trevor Wagenaar scoring all eight points. The Knights outscored LaSalle 21-14 in the final stanza.
What helped the Knights in their play last night was the solid shooting at the free throw line. LaSalle gave SCHS 28 attempts from the charity stripe and the Knights took advantage, knocking down 22 of those. Steven Broersma, who led the Knights with 22 points and five rebounds, went 9-for-10 from the free throw line. Kevin DeJong, who scored seven points for SCHS and pulled down a team-high 10 rebounds, was 3-for-4 from the line.
"You have to have multiple facets to your offensive game to be a complete team," Wagenaar said.
The Knights also benefited from their play on the boards last night. SCHS pulled down 31 rebounds to just 15 for LaSalle. The Knights only committed four turnovers.
Wagenaar added 19 points for SCHS and made five assists and five steals. Alex Brouwer scored 12 points for the Knights. Brandon Broersma had eight points and five rebounds. Ryker Van Belle added four points and grabbed four rebounds. Steven Bosma had three points and dished off four assists, and Jackson Haak had one point for SCHS.
Joe Sullivan led La
Salle with 10 points.
The Knights (5-2) will travel to Touchet tonight (Wednesday) for a 6:30 p.m. match-up.