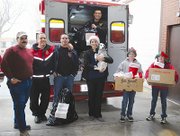 For many years, the Sunnyside Fire Department has teamed with Outlook Elementary School to provide gifts and food for local families in need during the holiday season. This year is no different and the fire department has selected to aid seven local families in the Sunnyside and Outlook area.
Six of the families were selected from a list of people in need provided by Sunnyside Community Hospital. The seventh family was adopted by the fire department through their own encounters with the family.
The six families from the hospital's list were selected based on their low income and the number of children. Several of the families are single parent homes and have up to five children under the age of 18. The reported income for the families are no higher than $600 per month.
Three of these families reside in Outlook, the other three in Sunnyside. This split was decided because of Outlook Elementary School's heavy involvement in helping out the fire department with this project.
The seventh family being aided by the fire department has five children in a single parent home. The department crossed paths with the family earlier this year through aid calls. The children recently lost one of their parents.
Sunnyside firefighters raised money for the families at their annual chili feed held during the Light Farm Implement Parade. Money raised at the chili feed purchased food for the families.
Money left over from purchasing food went to buying stockings and stocking stuffers for the families. This was the first year the fire department has been able to provide this Christmas staple for their adopted families.
Outlook Elementary School was an important force in helping the firefighters. Children brought in their excess change for a school-wide penny drive and students brought in 2,508 canned and prepared food items that were donated to the Sunnyside Fire Department for this project, as well as for local food banks.
The money raised in the penny drive went toward purchasing gifts for the children in each family.
Sunnyside firefighters organized the gifts and food into baskets that they plan to deliver to the families this week.