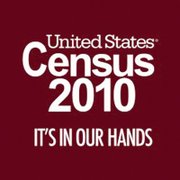 The U.S. Census Bureau announced this week that the 2010 Census showed the resident population of the United States on April 1, 2010, at 308,745,538.
While the nation on average grew at nearly a 10 percent clip over 2000, Washington state's population jumped by 14 percent, earning it a 10th seat in the U.S. House of Representatives.
The state population grew by 14.1 percent since the 2000 census, to 6,724,540 people. The population growth in the West also was very strong, up 13.8 percent.
Washington's addition of a 10th Congressional seat had been anticipated due to the population growth.
David Ammons is a spokesperson for the Secretary of State's office, and he says the 10th seat is "most likely to be added in the rapidly growth greater Puget Sound region."
Ammons added, "All of the current districts will be changed significantly, particularly in western Washington.
Secretary of State Sam Reed said he was delighted to hear Washington is one of only eight states adding seats in Congress.
"We couldn't be happier," he said. "This is a great day for the people of Washington. We gain in clout, with another strong voice in Congress to be added in 2012."
Reed added, "We gain an Electoral College vote and our population gain means we get a little larger slice of the pie as federal grants are apportioned out based on population."
The actual work of divvying up the state in equal-sized congressional districts and legislative districts will be the task of a bipartisan citizen commission.
Four voting members - two Republicans and two Democrats - will be appointed by the legislative caucus leaders, and the four will choose a fifth, non-voting person to be chairman.
The panel will have all of 2011 to develop and finalize the maps, and three of the four voting members must vote for the final product. The Legislature has virtually no role and the governor cannot sign or veto the maps.
Washington's new seat will be on the ballot during the 2012 election
With some states like Washington gaining seats, that means others are losing seats in Congress. Hardest hit were the areas of the midwest and northeast, which showed little growth over 2000.
Michigan was the only state to actually lose population between 2000 and 2010, dropping about 50,000 residents, or about half of 1 percent.
This week's population and apportionment announcements by the Census Bureau are just the first of several releases of information from the 2010 count.
Beginning in February and wrapping up by March 31, 2011, the Census Bureau will release demographic data to the states on a rolling basis so state governments can start the redistricting process.
In 2012, the bureau will release additional census and demographic information for individual counties and cities.