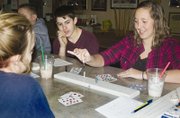 Students on winter break came from as far away as Yakima and Prosser this past Tuesday, for the first ever youth cribbage tourney in Sunnyside.
James Morrow helped organize the event at the Sunnyside VFW post, and said the tourney came together after a youth cribbage class he taught this past summer.
"It's a positive activity for the kids to do," said Morrow. "They get to meet other students and practice math skills."
A total of eight students participated in Tuesday's tournament, ranging in age from eight to 18.
Tyson Trevino, 14, of Yakima says he likes the competitiveness of the sport, and especially how it requires him to make decisions about which cards to play.
"It's just fun," added Hunter Zieske, 14, of Sunnyside. "You can be competitive and have some fun."
Morrow says it's encouraging to see a younger generation taking up cribbage.
"The average age of the players at our tournaments is 65," Morrow noted. "If we don't have new (cribbage) players it will end."
The results of yesterday's first cribbage tourney in Sunnyside included Ian Redfield, 10, of Zillah winning the championship for those 13 and younger. He was followed by Talyn Trevino, 12, of Yakima; Collin Hurst, 11, of Sunnyside; and Teryn Truax, 13, of Grandview.
In the 18 and under category, Dylan Truax, 17, of Grandview earned the title, followed by Morgan Anderson, 14, of Prosser; Tyson Trevino, 14, of Yakima; and Hunter Zieske, 14, of Sunnyside.
Morrow said the two champions each received trophies and all participants received a set of cribbage pegs.