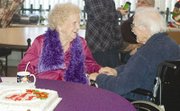 Surrounded by family and friends, Dorothy Looney celebrated her 100th birthday with a small party at Hillcrest Manor yesterday (Wednesday). The celebration was a bit premature as Looney won't officially turn 100 until Christmas Day this Saturday.
Looney, who came to the Sunnyside area in the late 1940s, has had a busy life. She raised six children, which in turn gave her 21 grandchildren. Looney is also grandma to 51 great-grandchildren and 32 great-great-grandchildren.
In between raising her children Looney also found time to work for Pacific Power and the University of Washington.
Asked how she felt about reaching the century milestone Looney didn't quite know how to express herself.
"I don't know, I feel fine," she said. "I find myself reminiscing a lot."
Darrel Cook, one of Looney's sons-in-law, said she likes to watch sports, especially the Seahawks or the Mariners. Looney's granddaughter, Patty Carlyle, said the most recent sport her grandmother has gotten into is NASCAR.
Looney speaks to her twin sister, Doris, almost daily. Doris lives in Mississippi.