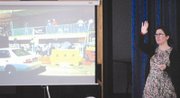 When it comes it stopping a $32 billion industry born from poverty and thriving on human weakness, Dianna Mendoza knows the most important thing she can do is pray.
Mendoza, a student at Pacific Lutheran University in Tacoma, recently traveled to South Africa with an international organization known as Exodus Cry to help put an end to human trafficking.
In a presentation Mendoza gave at Our Saviour's Evangelical Lutheran Church in Sunnyside this past Sunday, she revealed there are two types of human trafficking - labor trafficking and sex trafficking.
With the increase in tourist activity in South Africa for the World Cup, Exodus Cry put an emphasis on sex trafficking. It was estimated that 40,000 people, mostly women and children, would be trafficked into South Africa for the global event.
Mendoza, a Sunnyside High grad, and the team from Exodus Cry spent six weeks in South Africa, where they met with local ministries and aided in the rescue, rehabilitation and reintegration of sex trafficking victims.
But while Mendoza spent a great deal of time traveling South Africa, meeting victims and working with local organizations, she quickly discovered the most important thing Exodus Cry could do was pray.
"We realized prayer is really the key to justice," she said. "There is no justice without Jesus."
Every day began with 2-5 hours of prayer, but Mendoza said these were no silent appeals to God. Rather, members of Exodus Cry gathered together to worship and sing their prayer.
"It was really powerful," Mendoza recalled.
Proof of the power of prayer soon became evident for the members of Exodus Cry, she said.
Mendoza shared several personal experiences she had in South Africa that helped reaffirm God's guidance for her work, including a rare trip into a world famous and exclusive strip club where the management gave the members of Exodus Cry the freedom to speak with the women working there and pray with them.
But one of the most remarkable occurrences began with a dream, Mendoza said.
A woman with Exodus Cry had a terrifying dream where she found herself being kidnapped and dragged into a brothel. A few days later, the woman spotted the brothel from her dream and the Exodus Cry team decided they needed to pray in front of this building. Two days later, the team discovered that police raided the brothel and discovered 32 women who had been trafficked out of Europe.
Mendoza revealed that she always believed that if she could help just one person in South Africa, the trip would have been completely worth it. While the trip certainly aided many people, one woman stood out for her.
They met the woman on a darkened street and talked with her about leaving her life as a prostitute behind. The woman took the information Exodus Cry gave her and told them she was not ready to leave, but she would seek them out when she was.
Mendoza recalled that the woman had several bruises and cuts on her body, and she appeared to be under the influence of drugs. But the Exodus Cry team did not give up. They let her know that she was free to leave with them at anytime - that nothing was really holding her back from making a change that night.
Eventually, the woman agreed. She left with the team and explained to them that she had been working the streets for 10 years and that her injuries came from an abusive pimp who often beat his "girls."
When the woman began to talk about what she wanted to do with her new life, such as making amends with her mother and getting her children back, Mendoza said, "You could just see the hope in her eyes."
In the van, the woman suddenly pulled out a vial of drugs and handed them to the team, asking that they destroy it.
Mendoza understands that many people they sought to help may return to their old lives, but many others will start anew and that alone makes their work worthwhile.
Since returning from South Africa, Mendoza has continued work with Exodus Cry in Tacoma. She has also begun what she calls "investigative drives," where she and a friend travel the streets of Tacoma, trying to identify what they believe are brothels or prostitutes. It is a way she can keep the unique set of skills she learned in South Africa fresh.
Mendoza encourages people to learn about organizations like Exodus Cry or the Washington Anti-Trafficking Response Network. She says it is important to read about trafficking and understand its true danger, learning to identify warning signs and to report it.
But most importantly, Mendoza says prayer is the key. "Without the hope of Jesus," she said, "there is no way to redeem somebody who has spent their life selling themselves."