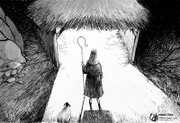 It's been the best of both worlds this Christmas season.
In the news business we get to hear, photograph and write about the many people and groups who are giving to bless other people.
Whether it's providing clothes, food, toys, money or all of the above, our news log has been filled this season with heartwarming stories of generous folks throughout the Lower Valley.
As a pastor whose outreach includes children's ministry, it has been fun this Christmas season for me to see so many in the congregation pull together to put on an uplifting Christmas program this past Sunday.
To top it off, it was something to see the excitement and joy the kids have during the Christmas season.
The children shared that joy during their portion of the Christmas program. Their toe-tapping songs brought a smile as they shared the message about the birth of the Christ child.
I don't know what 2011 will hold, but I hope this spirit of celebration and joy is something that will continue into the new year.
Whether it's December, January, May or September, we can always use the hope that Jesus offers.
Here's wishing for all of you that hope - as well as health and happiness - at Christmas and throughout the year.