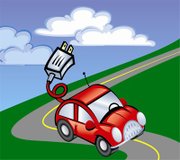 Some of the nation's first all-electric Nissan Leaf vehicles will soon be arriving in the Seattle market.
That was the announcement earlier this week from Sen. Maria Cantwell's office.
As for when we'll see the Leafs fall in Yakima County, it is too soon to be determined.
Jim Fretwell is the general sales manager for Valley Ford Nissan in Yakima, and he's taking a "wait and see" approach.
He says dealerships offering the Nissan Leaf must install two charging systems, one for the service department and one for the front lot for customer use.
"It's a big investment to make when you don't know how many cars you'll get or what the interest will be," Fretwell said.
"We're excited about the vehicle, but we're waiting to see the response (from the car-buying public)," he added. "It might be huge."
Though the vehicles aren't here yet, Fretwell said the public can pre-order a Leaf by paying a $100 deposit. "We haven't had anyone sign up yet," he said.
C. Speck Motors, which has a Nissan dealership in Sunnyside, was contacted for this story but did not have comment as of press time.
The electric cars are coming to Washington state accompanied by a tax credit of up to $7,500 on the purchase of plug-in electric vehicles.
"Electrifying our nation's transportation system is the most promising way of reducing our dependence on foreign oil and opening the way to cleaner, cheaper transportation," said Cantwell.
Stimulus funds from the Obama administration's American Reinvestment and Recovery Act provided the funding necessary to also install thousands of electric vehicle charging stations.
Seattle was chosen to receive this investment, and the first Nissan Leafs, because of the city's commitment to cleaner, cheaper transportation alternatives.
"Seattle is at the forefront of America's efforts to electrify our transportation sector, reduce our dependence on foreign oil and create new clean energy jobs," said U.S. Department of Energy Secretary Steven Chu.
The Recovery Act funded half of a $230 million public-private Electric Vehicle (EV) Project, the largest deployment of electric vehicles and infrastructure in the country.
The project will install nearly 15,000 electric vehicle charging points and deploy 8,500 electric drive vehicles, including the Nissan Leaf, in Seattle and markets across the country.
Offiicals estimate that the project will save or create nearly 1,500 jobs.
In addition, purchasers of the Leaf vehicle can receive a 220-volt charging station in their home at no cost.
In terms of "fill-up" costs, researchers say the Nissan Leaf costs the typical owner approximately $200 to drive 10,000 miles, or about 2 cents per mile.
To drive 10,000 miles in a car with average fuel economy would cost approximately $1,250 at today's gasoline prices.