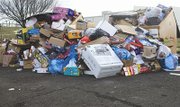 The overflowing recycling bins at Sunnyside's South Hill Park might be considered an eyesore to some, but the good news is it means residents are recycling.
That's according to Sunnyside Community Center Janitor Clayton Febus, who sees the overflow on a regular basis.
He said Yakima County Waste Systems is diligent about emptying the bins, but that diligence isn't always appreciated when residents see recyclables pouring out onto the parking lot where they are located.
Yesterday morning (Monday) a resident called the Daily Sun News after noticing recyclable materials pouring onto the parking lot following the Christmas holiday.
"That's actually light compared to a normal three-day weekend," said Febus.
He said Yakima County Waste Systems was scheduled to empty the recycling bins at South Hill Park yesterday.
"They come every other day and if there is a concern, the guy doing the pick-up will call others to assist him," Febus noted.
There is another site Sunnyside residents can use for recycling plastic, aluminum cans, newspapers and mixed paper items. When the recycling bins at South Hill Park are full, residents can also drop off recyclables at 737 South 16th Street, near Sunnyside Presbyterian Church.
- Jennie McGhan can be contacted at 509-837-4500, or email
JMcGhan@DailySunNews.com