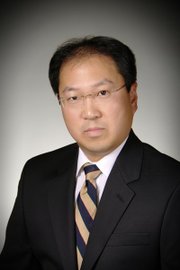 Sunnyside General Surgeon, Dr. Steven Lee, has become a Fellow of the American College of Surgeons.
Lee was among nearly 1500 surgeons from around the world recently honored during the 96th Clinical Congress of the American College of Surgeons during their meeting in Washington D.C.
"Becoming a Fellow of the American College of Surgeons is something I am very proud of," Lee said. "We do a tremendous amount of great work here in our hospital and clinic, and I hope this recognition will be one more assurance to the public that excellent care is available right here."
Lee received his medical degree from Tufts University in 1997 and is currently practicing at Specialty Center Surgical Group in Sunnyside. Lee became board certified in General Surgery in 2005.
He has a strong professional interest in G.I. endoscopy, laparoscopic surgery, venous disease, breast disease, and hernia and gallbladder disease.
Lee is a member of the American College of Surgeons and also SAGES (Society of American Gastrointestinal and Endoscopic Surgeons).
By meeting the College's stringent membership requirements, Fellows of the College have earned the distinguished right to use the designation FACS (Fellow, American College of Surgeons) after their names.
Dr. Steven Elerding, who also practices at Specialty Center Surgical Group, is also a Fellow of the American College of Surgeons.
All applicants for Fellowship must be graduates of an approved medical school; must have completed advanced training in one of the 14 surgical specialties recognized by the College; must possess certification by an American surgical specialty board.
Before admission into Fellowship, the surgeon must further demonstrate ethical and professional proficiency, and his or her acceptance as a Fellow of the College must be approved by three quarters of its Board of Regents.
"We are very pleased that Dr. Lee has met Fellowship standards," said Jon Smiley, Sunnyside Community Hospital CEO. "Dr. Lee and Dr. Elerding are both excellent surgeons and we are proud to have them as members of our medical community."