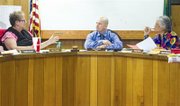 MABTON - It's official. The long talked about transportation benefit district has finally been formed in Mabton. The city council adopted a resolution last night, forming the district to help raise money for the upkeep and maintenance of city streets.
The Mabton Transportation Benefit District will issue its first directive at the first city council meeting in January. That directive will be to raise the price of car tabs in Mabton by $20.
The transportation benefit district was formed because the city of Mabton has limited transportation funding to pay for the necessary maintenance of its streets. This limited funding was further eroded by changes in Washington state law.
Dedicated revenues for the maintenance of streets have decreased, but the ongoing costs to maintain the city's infrastructure continue to rise, leaving the city unable to continue to adequately maintain the streets.
This is apparent to anyone who drives through the city of Mabton. Some streets are covered with pot holes. The city recently received a grant to take care of one of the worst streets in Mabton, Seventh Street. This road runs north along Artz-Fox Elementary School and should be repaired early this year.
The governing body of the new Mabton Transportation Benefit District is the city council, acting in an ex-officio and independent capacity. The treasurer of the transportation benefit district will be the current city treasurer.
Also at last night's meeting the Mabton City Council re-elected Councilwoman Oping Hutson to serve as mayor pro-tem. She will continue serving in this position until Dec. 31, 2011.
The council also heard a presentation from Darwin Parker of Banner Bank. After the presentation council decided to switch banking services from American West Bank, the city's current bank, to Banner Bank.
Banner Bank has some policies that will allow the city of Mabton to earn more interest on its accounts.