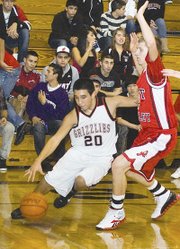 The 3A Sunnyside Grizzly boys basketball team made it interesting at the end, but ultimately couldn't overcome a large deficit in losing 64-55 last night to visiting East Valley.
Wednesday night's non-conference loss to the 2A Red Devils opened with East Valley building an 18-10 lead after one quarter and a 35-22 advantage at the half.
The Red Devils were sparked by Cody Nickoloff during the first half run, as he scored 16 of his 18 points in the first two quarters.
"We were slow rotating to defend him," said Sunnyside Coach Ron Rowe. "They took advantage on the inside."
The Grizzlies also struggled against East Valley's defensive pressure.
"Basically we didn't execute very well in making good pass choices and using our dribbles wisely," Rowe said.
The Grizzlies found themselves down by 17 after three quarters, 49-32, before finally firing on all cylinders in the fourth qouater.
"We made a good run," Rowe said. "Our defense was strong and our press forced turnovers." Sunnyside got as close as six points and with less than two minutes to play could have cut the deficit to four but missed two free throws.
Israel Manzo led Sunnyside with 15 points and Cody Fernandez tallied 11 points for the Grizzlies. The duo combined for 17 fourth-quarter points to spark Sunnyside's late charge.
In rebounding, Trey Serl and Greg Spini paced the Grizzlies with six and five boards, respectively. Serl also scored eight points, while Spini tallied two points.
Jessie Leija recorded five assists for Sunnyside to go with five points.
Jonathon Janis led East Valley with 25 points. Nickoloff paced the guests inside with nine rebounds.
Sunnyside (0-2, 2-6) returns to action on Friday, Jan. 7, when it hosts rival West Valley.
Rowe hopes his team will be able to build on last night's fast finish.
"We finished on a strong note, but we have to put four quarters together," he said.