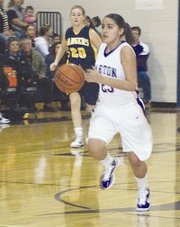 MABTON - The good news is that the Mabton Lady Viking basketball team held Naches' leading scorer, Justine Benner, to just 12 points through three quarters last night, Wednesday.
The bad news is that Benner exploded for nine fourth-quarter points and scored the game winner in Mabton's 54-53 non-league loss at home.
After a sluggish first half, trailing 27-16 at the break, Mabton went on a 16-8 run in the third stanza to trail by just three points, 35-32, heading into the final quarter.
"In the third quarter our defense came out with more fire and our shots started falling for us," said Mabton Coach Chris McCallum, who noted his team was down by as many as 16 or 17 points in the first half.
That set up some fourth quarter fireworks, in which both Mabton and the Rangers swapped the lead back and forth.
"We were up by as many as four points with three minutes left in the game," said McCallum.
That's when Benner went to work, scoring nine points in the final quarter.
Mabton had an answer, though, as Melissa Gutierrez scored 12 of her game-high 23 points in the fourth stanza. Gutierrez actually gave the Lady Vikes the lead with seven seconds left by hitting a runner in the lane.
Naches misfired on its attempt the other way, but Benner was there for the winning putback just before the final buzzer.
"Melissa is one of our leaders and best scorers," said McCallum. "They (Gutierrez and Benner) were matching up against each other."
Gutierrez also had six steals to help Mabton, while teammate Crysta Reynolds scored 11 points and collected 15 rebounds.
McCallum says his team is doing some positive things, but needs to do a better job at the free throw line. Last night, for example, the Lady Vikes were 6-of-16 from the charity stripe, while Naches was 16-of-25.
"That was pretty much the difference in the game," he said.
The non-league loss dropped Mabton to 3-6 overall, but five of those losses have been by a combined total of 14 points.
Mabton will look to get back in the win column a week from this Friday, Jan. 7, when it hosts Royal City in SCAC East play.