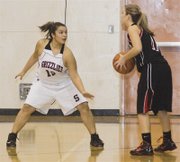 Costly turnovers and poor shooting doomed the Sunnyside High School girls basketball team last night (Wednesday) as the 3A Lady Grizzlies lost to 2A East Valley, 52-24.
Coupled with the Sunnyside mistakes was the height of the East Valley team, which allowed the Red Devils to outrebound the Grizzlies and get second and third opportunities.
"The turnovers really hindered us," Sunnyside Coach Rick Puente said. "We couldn't get anything going. East Valley had a lot of extra opportunities they shouldn't have had."
The first quarter saw the Lady Grizzlies attempt to force passes. Puente said his girls would see an open lane but didn't execute properly. The result was a lot of turnovers.
"East Valley is good at running the floor," Puente said. "They did a good job at it. They had five girls out there the whole time that knew where they should be."
The Red Devils capitalized on Sunnyside's mistakes to lead 16-4 after one quarter. Leading 28-12 to start the second half, East Valley used a 16-6 third quarter run to put the game away. Sunnyside was outscored 8-6 in the final period.
The final period was Sunnyside's best and Puente credited that with his girls finally focusing on the game.
"The girls figured out they were going to have to start working on their defense to make up for all those earlier missed opportunities," Puente addd.
The effort was futile as even though the Lady Grizzlies were able to get open looks at the basket, Sunnyside couldn't get many shots to fall.
The Grizzlies were led by Ruby Herrera with nine points. Audi Sanchez added five points. Marissa Correra finished with four points for Sunnyside and teammate Sammie Reyes had three. Sydnee Hernandez scored two points for Sunnyside and Priscilla Bermudez had one point.
Four East Valley players scored eight points each.
Sunnyside (0-2, 0-8) will now have until Jan. 7 to get ready to return to league play. The Lady Grizzlies will host West Valley on Friday, Jan. 7, at 5:45 p.m.