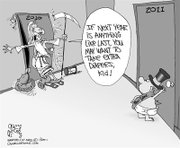 We've all heard someone resolve to lose weight or lose some bad habit for the new year, but often the New Year's resolutions people make involve stamina and/or major commitments.
I looked up the top 10 New Year's resolutions online and basically the premise is that people resolve to improve their health through diet and exercise, and try to quit smoking and/or drinking. Some resolve to become more organized, get out of debt and stick to a budget. Helping others is another top resolution, and I have a few takes on that one.
I think there are ways we can help ourselves and the community by becoming more informed and more involved.
None of my suggestions requires a long-time commitment, just a little effort.
To help youngsters in the community, I think a purchase of 12 children's books (one for each month of the year) would be a good idea. The books could be given to a child in your neighborhood or anonymously donated to a classroom in one of the many local schools. It isn't terribly expensive and a simple search at an online bookstore doesn't take much time. The motivation is to help youngsters who might not otherwise own their own book obtain something they can treasure.
I think it is healthy for a person to also step out of their comfort zone sometimes. Try an activity that you might not normally participate in. Some don't feel comfortable dancing, so maybe a Zumba class would be adventurous for the more reserved individual. All you have to do is try it one time. You might actually find it fun and decide to return.
We lead busy lives and sometimes neglect the simplest pleasures in life like quality time with the family or time reading our Bibles. But, neither of these should be terribly difficult, but they sometimes are. What I suggest is sparing one hour each week for family time. The family can sit and watch a television show together or talk about what crazy lives they lead. If the family is centered on faith, read a Bible verse and discuss its meaning.
There are many non-profit organizations in the Lower Valley that could use our support. We don't have to make a huge commitment to them, but finding out the needs of our favorite organizations and trying to meet at least one need can be meaningful to the organization and to your own spirit. Perhaps, there are times in the year your favorite organization hosts a yard sale. The organization may need someone to help label items with price stickers. It is a small contribution, but it can be a big help to the organization.
Another suggestion I have is that we get out and meet our neighbors. National Night Out is a great way to do this, but I think it is important that we know those living in front, beside and behind us. We don't have to become best of friends, but pay an occasional visit. My family enjoys our neighbors and when my husband makes a double batch of barbecued ribs, we like to bring some to one of our next door neighbors. I think it is important to let them know we care.
Instead of being upset about the negatives in our community, I think it is important to find out what our community leaders are doing about it and how they might better be empowered to resolve matters. One way we can do this is through attendance at a couple of city council or school board meetings. If we find our leaders are hindered regarding an issue because of state or federal laws, we can call our legislators. This may require more commitment for those really wanting to make a difference. For others, it may just shed light on what's really happening.
These are just a few suggestions, and they can be amended however needed. I feel the purpose of New Year's resolutions is to improve the lives we already have, not to make them over.
More like this story