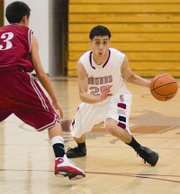 GRANDVIEW - The Grandview High School boys basketball team stayed undefeated for the season with a 78-60 thumping of the Toppenish Wildcats in a CWAC match-up last night, Thursday.
The Greyhounds shot nearly 50 percent from the floor in the first half as Grandview put Toppenish in a hole that was too deep for the Wildcats to climb out of. Grandview put up 25 points in the first quarter alone and then added 17 in the second to lead 42-18 at halftime.
In the first half the Greyhounds were 6-of-15 from the free throw line and hit 4-of-5 shots from behind the 3-point arc to build their lead.
Defensively, Grandview controlled the boards, grabbing 20 defensive rebounds in the game and letting the Wildcats have only three offensive rebounds. The Grandview defense also caused Toppenish to turn the ball over 25 times.
Grandview never trailed in the match-up last night and at one point led Toppenish by 26 points. The Wildcats did perform better in the second half, matching Grandview's 15 points in the third quarter and outscoring the Greyhounds 27-21 in the fourth. But it was not nearly enough to overcome Grandview's lead.
Christian Schrank led the Greyhounds with 29 points and six rebounds. Adrian Reyes scored 20 points for Grandview in last night's game and had six steals. Adrian Vela added 10 points in the effort and had five steals. Both Tony Vela and Daniel Nielsen scored seven points each for Grandview.
The Wildcats were led by Wesley Williams with 19 points and nine rebounds. Randy Isadore added nine points for Toppenish and Kyle Jamison and Gavin Reynolds each scored eight points.
Grandview's next game will be Tuesday, Jan. 4, when the Greyhounds travel to Wapato to play the Wolves.