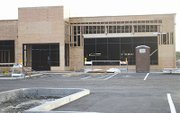 You might say it is like an experience of going to Disneyland," said Apple Valley Dental Corporate Manager Leti Brownfield, whose dental offices are expanding to Sunnyside.
She said the experience of going to the dentist is not always fun, but the dentists at Apple Valley Dental want it to be a more pleasant experience.
Currently there are two Yakima offices and many of the patients seen by dental specialists there are from the Lower Valley. That's why Dr. Derek Thompson three years ago purchased property on Picard Place.
"He saw a need for a facility that would be more conveniently located for Lower Valley patients," said Brownfield.
The new offices are currently under construction and the city of Sunnyside has received more than $17,000 in permit fees thus far, according to Sunnyside Deputy City Manager Byron Olson.
Brownfield said the more than 12,800 sq. ft. office space will be home to two or three dentists to start. There are currently 11 dentists working for the organization and both a pediatric specialist and orthodontists will be available for patients of the Sunnyside location.
One of the more permanent faces at the new location will be Dr. Ronald Senn, who is a resident of Sunnyside, according to Brownfield.
"We love Sunnyside," she said of her organization's enthusiasm for opening the new facility, which is being constructed by SAR Construction of Yakima. The facility is expected to open in the coming spring.
"We are unique in that we work together as a team with the aim of providing the best possible care to patients," said Brownfield, stating the added benefit of a facility like the one in Sunnyside is the warm, fun environment.