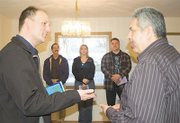 GRANGER - It pays to be persistent, just ask Granger's Isidro Romero who, for two years, has faithfully and dutifully contacted Habitat for Humanity in hopes of acquiring a home.
It worked.
This past Sunday, Habitat for Humanity dedicated the refurbished home located at 308 Fifth Street to Romero and his wife Sophia Solis.
"Every house we build is an act of God's grace and his expression of love in this world," said Steve Luten, Director of Yakima Valley Habitat for Humanity. "As we build homes, we glorify God."
Construction Superintendent Kris Wilsey said of Romero, "He came to this house when it was a shambles and spent many hours really transforming this house into a nice (home). It takes many hands, many people to build a Habitat house."
Families Coordinator Gloria Garza remembers when she first met Romero. "He told me he wanted a house and he would do anything to get it for his family."
When the home in Granger became available because the homebuyer couldn't live up to the financial agreement, Garza said she was puzzled as to who to give the house to. Then, she said, she thought of Romero who contacted Habitat for Humanity at least once a month in hopes of getting a home.
"We re-did his income and stuff and we were able to get him qualified...he was so happy," she said at Sunday's home dedication.
A grateful Romero promised to faithfully make the house payments and to take good care of the Granger home.