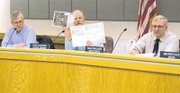 At a special city council meeting held last night, council members looked into beginning a search for a permanent city manager.
Currently, Sunnyside Public Works Director Jim Bridges has been running the city as interim city manager since the city council fired former City Manager Eric Swansen last June.
Councilman Tom Gehlen said he would like council to consider two applicants who received high marks during the last search, when the council hired Swansen.
Councilwoman Theresa Hancock moved to authorize Mayor Jim Restucci to begin speaking with the two applicants but Councilman Mike Farmer wanted to see more than just those two.
He noted that he has nothing to compare the two applicants with, except themselves.
Councilman Don Vlieger said he had no problem with Restucci speaking with the two applicants but wanted the search for a new city manager to begin immediately.
Council decided to hear from Prothman, a Seattle firm that helps local governments in the Pacific Northwest find qualified permanent and interim employees, as well.
At the next city council meeting, Monday, Feb. 8, a representative from Prothman will be on hand to answer questions from the council.