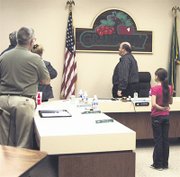 GRANDVIEW - Christmas may be a distant memory, but the Grandview City Council has a wish list with a good chance of coming true.
Last night, Monday, the Grandview City Council discussed its priorities for the legislative session now underway in Olympia.
Representatives from Grandview were in Olympia last week.
Councilman Bill Moore said legislators were generally favorable to bills the city, along with the Association of Washington Cities (AWC), were hoping to see move forward.
The city's priorities for Olympia include the following:
- A bill that would allow cities to assess residents and businesses a street maintenance fee. The fee would be based on the levels of use by different classes of residents and businesses.
The city favors the bill, though businesses have opposed it because of how the fee would be assessed.
According to an example published by the AWC, the monthly street fee might range anywhere from $1.36 for a single family to $83.20 for a large retail store.
- Asking the state to help pay for mandated stormwater improvements.
Sunnyside, Yakima, Union Gap and Yakima County are required to develop a stormwater plan. Grandview will be in the same situation when its population reaches 10,000.
- Grandview is also backing legislation to allow public records requests to be satisfied by directing the public to information on a website.
- Proposed criminal gang intimidation legislation also gets a thumbs up from council.
City Administrator Scott Staples also shared that Grandview has applied for money from the state to help with improvements on Euclid Road.
The goal, he said, is to receive $500,000 each from the state and a second round of stimulus money now making its way through Congress.
Staples expressed some optimism for the state money since he said Sen. Jim Honeyford told him there is $7 million in state transportation money that has not been spent.
"The seeds have been planted," Councilman Jesse Palacios said of the city's efforts for state road money. "Hopefully it will grow."