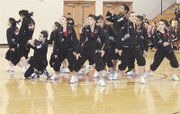 If there's one thing Melodie Griffin wants you to know, it's that the Sunnyside High School Grizzliettes aren't just a halftime show.
"We take pride in our program and work hard to be the best," said the Grizzliettes' Coach, who noted Sunnyside just hosted a dance and drill competition this past Saturday at the high school.
"I chose to host a competition because there are only a few competitions in our area," Griffin said. "Having a competition in Sunnyside gives us a home court advantage and it also gives the community a better understanding of what the Grizzliettes are doing every morning at 5:30 a.m...practice."
Moses Lake almost swept Saturday's competition after earning first place honors in the dance, kick, military and pom events. Goldendale finished first in the show category and Southridge High School took top honors in the hip-hop category. Pasco, Kamiakin and Hanford high schools took second place honors in the hip-hop, pom and dance categories. Kamiakin also took third place honors in hip-hop.
"We compete against some of the best teams before we even get to State," said Griffin, noting Hanford, Kamiakin, Moses Lake and Pasco have all been state champions in the past. And, she added, Hanford has been state champions in the dance and kick categories for the past nine years.
"It was a small competition with only (a few) teams," said Griffin of Saturday's event, adding this is her second year hosting such an event. "I learned a lot from last year on what to do and what not to do."
Griffin said it's important to get dancers' families involved. "I delegated many responsibilities to them and they delivered," she said. "Most of the success of Saturday's competition is because of the families of my dancers."
Also factoring into the success were the SHS leadership class and Key Club. It helped, too, that local businesses offered up raffle and door prizes.
The Grizzliettes competed in three categories, pom, hip-hop and dance, and qualified for District competition, which will take place mid-March.
SHS senior Crystal Rivera choreographed the dance routine for her senior project, Griffin said.
Although they competed in only three categories, the Grizzliettes actually performed five routines Saturday. They opened the competition with a tribute to Michael Jackson, then performed "Calabria," a Caribbean-style hip-hop routine, with 10 Sunnyside middle school students. Griffin said the Grizzliettes have been working with students in the 21st Century program at both middle schools since December, and the entire group will perform at the last home basketball game on Feb. 16.
The Grizzliettes next compete at Kamiakin High School on Feb. 20.
The Sunnyside High School Grizzliettes get their groove on for the audience during a home-hosted competition this past Saturday.