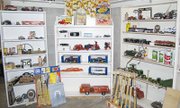 Nestled on Sheller Road less than two miles after getting off of Highway 241 lies perhaps one of Sunnyside's best kept secrets, as well as an antique lover/thrift shopping addict's delight.
When longtime Sunnysiders hear the Bridgman name, they probably think of The Hatchery, baby chicks and farm fresh eggs. But if given enough time, the Bridgman name will be associated once again with The Hatchery, as well as a tourism attraction and shopping mecca that draws at least 40 consigners to Sunnyside.
The Hatchery thrift shop opened last June-transforming about three rooms of the former egg business's building. But when it was just an idea rolling around in Vonnie Bridgman's head, it was a possible restaurant tailored to farmers.
"I kept thinking about what I could do with this building," she explained. "Back when it was the egg business, a lot of farmers would just stop by, so I (thought about) opening a restaurant, a coffee shop. But coding and regulations for food service are (so complicated)."
A few years ago, Bridgman had worked in a Sunnyside shop similar to what The Hatchery is today. "I loved it. I've always liked decorating."
Soon she was wondering where she could do that kind of work again.
Bridgman began looking in the city of Sunnyside for a place to open a thrift and antique shop.
"I looked all over town, but the city wasn't very helpful in (the process)." One building Bridgman considered renting was ruled out because the city had decided the thrift shop would necessitate a tremendous amount of parking space.
After looking at numerous buildings, she said, "It kept coming back to that building (the previous hatchery building)."
When she settled on opening an antique and thrift shop, Bridgman said "it only made sense to call Fred" De Graaf, a longtime family friend. He owns many antiques and has experience. He introduced her to Emma Gonzalez, and the three began to dream about opening a shop.
The process of opening The Hatchery has had its fair share of hiccups.
Gonzalez and Bridgman began to clean up the building and prep it. DeGraaf, in the meantime, had gotten extremely ill.
Ultimately, though, DeGraaf's health improved and The Hatchery opened, utilizing only three rooms.
Soon, Bridgman said, "I found I had a lot more stuff than I realized."
It wasn't long before the entire egg hatching building was filled with treasures not only from the trio, but from consigners as well.
"Our three rooms got pushed back and the building just got more and more engulfed with our things," Bridgman said.
The good thing about having so many consigners, as well as the trio, is it widens the variety of what's available. "Fred tends to go one direction, Emma tends to go one direction. It makes it to where there's not just one style there."
At first, it was open for 10 consecutive days a month, then closed for three weeks. "Then we went to more days a week," Bridgman said. "At the end of October, we were open Tuesday through Saturday. Now we've been lighter since January."
The Hatchery is currently open three days a week, Thursdays through Saturdays.
One challenge revealed itself during winter time: heating was inadequate, a problem currently resolved by a commercial furnace.
Bridgman said men who visit the shop are surprised to find an entire area tailored to them. It features tools, home improvement items and other goodies.
Women enjoy shopping for antiques, vintage and shabby chic items, as well as modern items.
With Bridgman, Gonzalez and De Graaf's things, as well as items from 46 consigners, there's something for everyone at The Hatchery, or, as Bridgman humbly refers to it, "There's quite a variety."
.