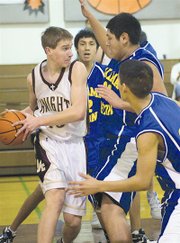 Last night's game was never in doubt for the Sunnyside Christian High School boys basketball team, as the Knights stormed past the visiting Yakama Tribal Eagles, 91-31.
Tuesday evening's victory gives Sunnyside Christian its second consecutive Greater Columbia 1B League title, the 11th conference championship in the last 14 years for the Knights (7-0, 13-3). Sunnyside Christian still has a league game remaining against Trout Lake/Glenwood, set for this coming Saturday, as well as two non-league encounters before postseason play gets underway the weekend of Feb. 12-13.
In dominating the Eagles last night, Sunnyside Christian got double-digit scoring from four players, including 6'6" Steven Broersma. The junior poured in a season-high 26 points, 16 of those coming in the third quarter during the Knights' 25-0 run to open second half play.
"Some of those 16 points came on breakaways that he finished, the others came on putbacks," said SCHS Coach Dean Wagenaar.
Sunnyside Christian opened the game with a 24-9 first-quarter outburst. The Eagles, though, behind James Whitefoot's six, second-period points, scored the first seven points of the second quarter to draw within 24-16. The Knights closed out the first half with a 25-8 run to take a commanding 49-24 lead into the locker room at halftime.
The 25-0 run to open the second half, upping the Knights' lead to 74-24, all but socked the game away.
Besides Broersma canning a game-high 26 points, Sunnyside Christian got a 19-point performance from sophomore Trevor Wagenaar, who connected on two of the three 3-pointers that the Knights made from treyland last night. The other long-range bomb was dropped in by junior Ryan Burton, who finished with a career-best five points.
Also in double figures for the winners was 6'5" junior Kevin DeJong. He knocked down 12 points, but more importantly led Sunnyside Christian to an overwhelming 62 to 18 advantage on the boards. DeJong scraped a game-best 24 caroms off the glass, three short of the school's single-game rebounding record.
Tim DeVries, the lone senior for Sunnyside Christian this year, chipped in 11 points in the victory. He also was the team's second leading rebounder last night with seven boards.
Whitefoot ended up as Yakama Tribal's leading scorer, getting all 10 of his points in the opening half.