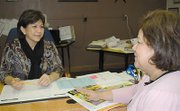 GRANDVIEW - Growing up in the Lower Valley as the child of migrant farm workers, Mabton's newly named Schools Superintendent Minerva Morales learned the importance of perseverance and education.
She was born in Sunnyside and grew up in the Grandview schools. Her mother, four siblings and herself traveled during summer harvest to different locations as migrant workers, harvesting crops such as apples, cherries, grapes and green beans.
Mabton School Board Chairperson Elsa Sanchez said, "I believe she is the first native Lower Valley Latino female to be placed in a superintendent position."
Morales' father stayed in Grandview while the rest of her family traveled to various farms throughout the valley.
She was an asparagus cutter in the Lower Valley and later began working in warehouses.
Because of this background, Morales grew up with an understanding and empathy for today's migrant families. "Many families today are constantly struggling and I understand the fragmented education the children are faced with...most of them move around following the crops throughout the year," she said.
In addition to her personal experiences as a child of migrant farm workers, she said her grandfather inspired her. "He was a 15-year-old orphaned immigrant, who went to school during the evenings to become a U.S. citizen...I figured if he could do it, there wasn't any reason I couldn't do it (become better educated)," Morales commented.
As Morales became a parent, she was further inspired to become involved with education. She began working for the Grandview schools as a clerical assistant in the early 80's.
"I wanted to be involved in my children's education," she stated.
Realizing the need to reach above and beyond to assist migrant students in the Grandview community, Morales made a decision to become an educator, rather than "sit in an office and do nothing."
She continued to work as a pre-school teacher while pursuing her Bachelor's degree. "I started working in the classroom in 1994," she said.
"I taught for five years at the elementary school level, teaching kindergarten, third grade and fifth grade. In my second year of teaching, I entered the Master's program at Heritage College," Morales explained.
She received her Master's degree in special education in 1997 and decided she wasn't done.
She pursued her administrative credentials at Heritage after receiving her Master's and completed her principal's credentials in 1999.
"The position of curriculum and special programs director became available in the Grandview School District in 2000," Morales said.
After filling the position at the school district, the position evolved, requiring an increase in Morales' responsibilities because of various grants and programs.
In 2003, Morales entered Washington State University's Superintendent program. This program allowed her the opportunity to further her education, giving her the proper credentials for her current title of assistant superintendent.
"I have been involved in a lot of positive learning and experiences at the Grandview schools. They have been so positive, I have developed an ownership of meeting the needs of the students in the school district, creating and developing opportunities (for them)," stated Morales.
She says she enjoys her job because of her love for people. "It has been very rewarding," she added.
This background in education is one of the qualities the Mabton School Board was looking for, according to Sanchez.
She said Morales and the four other candidates for the superintendent's position were being considered according to four priorities set by the school board.
"We wanted someone with a strong instructional leadership background, someone who would be good at staff relations and team building, someone with fiscal management experience and an individual with good community relations skills," Sanchez explained.
Morales, she said, met those criteria.
"Our schools have a lot of good things going on with dedicated staff members...we didn't want someone to come in and make drastic changes that might adversely affect the progress being made," Sanchez continued.
She said Morales and the other candidates were asked about their willingness to be not only visible, but present in the schools.
"We feel it is good for the staff, board and community to not only see the superintendent, but to be able to interact with the superintendent in a positive way," stated Sanchez.
She said the community wanted an individual that would be engaged with students, staff and community members, attending functions.
Looking at Morales' experience, the school board was also able to determine she has served under quality mentors, according to Sanchez.
Morales said of that, "Kevin (Chase) has been an excellent example and mentor to me."
Chase is the superintendent of schools in Grandview. He served as superintendent in Mabton before that.
Morales was evaluated on her leadership skills, and Sanchez said there are strategies and skills Morales has acquired through her work under Chase's leadership.
Those qualities as a leader factored into the school board's decision. "We felt her knowledge would fit with our goals and hopes for our students," said Sanchez.
"We also felt she would understand the cultural background of Mabton students...she would understand our community and its needs...she is proficient at collaborations," she continued.
Sanchez also shared the school board was set on hiring Morales and had voted to hire her before the candidates participated in several forums. She said those forums helped cement the board's decision, but had the results of the forum been different, the school board would have reevaluated their own information about the candidates to see if something was missed in the initial decision process.
"As a board, we are confident we made the right choice for our schools...the comments from the forums were in line with our thinking, making us happier with the decision," she shared.
Morales, too, is excited about the opportunity to serve the students and community of Mabton.
"I was attracted to Mabton because it's small and rural similar to Grandview. The only difference is the size, but the opportunity to continue to support instruction programs and services is the same," she shared.
She feels fortunate to serve a community that is so close to her and feels the Mabton School Board made the decision to hire her in a timely fashion.
"I can complete some of my work in Grandview as I make the transition to Mabton," Morales explained.
She won't be transitioning into Mabton with a personal agenda. She said, "I will go with an open mind and I look forward to meeting with the community and other groups to assess the needs before compiling goals for the schools."
Morales continued, sharing her only goal truly is to establish a collaborative approach to meeting the students and community needs.
"I'm excited and am so ready," she commented, stating the other candidates considered for the superintendent position were strong and three others were from the Lower Valley.
"I plan to not let either the school district or the students down."
When asked about concerns about a possible conflict of interest regarding her husband Robert Morales, assistant principal at Artz-Fox Elementary School, Morales explained there will not be a conflict of interest because the school board will establish stop-gaps to prevent her from having any say over his salary or acting as a direct supervisor to him.
"He is widely respected and highly thought of...I don't want any perception of a conflict of interest where he and I are concerned," she said.
As for now, Morales is looking forward to her future in Mabton. "I will miss my friends and colleagues in Grandview, but it's not like I am going far...it's only seven miles away," she beamed.