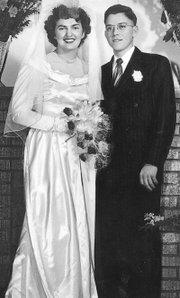 Lloyd and Ellen Phinney will celebrate their 60th wedding anniversary with family and friends on Saturday, Feb. 13, from 1 to 4 p.m. at the First Christian Church in Sunnyside.
The Phinneys have four children: David (April) Phinney, Jerri (Kevin) Williams, Terri (Jack) Syverson and Linda (Jerry) Fairbanks. The Phinneys also have eight grandchildren and two great-grandchildren.
The couple lived in Sunnyside for nearly half a century before recently moving to Yakima.
They exchanged wedding vows on Feb. 12, 1950, at the First Christian Church in Yakima.