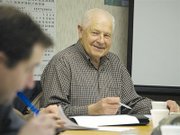 The board of control for the Sunnyside Division of the Yakima irrigation project met yesterday and named officers and appointments for 2010.
Tuesday's meeting, the first of 2010, saw Bob Golob elected chairman.
Also, board members selected Doug Simpson as vice-chairman.
Ken Ott was chosen to be the auditing officer for the board.
In board appointments made yesterday, Lori Brady was selected to the posts of assistant secretary, treasurer and deputy auditing officer.
Jim Trull was again tabbed for the offices of secretary and manager.
In related news, the board agreed to renew three contracts.
One of them was with Trull's Northwest Water Management, Inc. for management services.
The other contracts re-inked yesterday were for The Bailey Company and SVID.
The Bailey Company provides financial consulting for the canal improvement program and SVID's employees provide work for the division's projects.
The Board of Control's next meeting will be Tuesday, March 2, at noon in the basement of the SVID office at 120 S. 11th Street in Sunnyside.