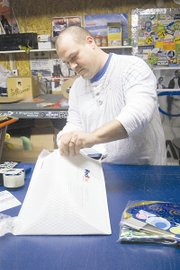 Andy Bonzi knows who butters his bread and it isn't him. It's the loyal customers of Ace Postal Center, a Sunnyside business that Bonzi and his wife are gradually taking over.
"I can't emphasize that enough," Bonzi said. "It's the customers that keep your doors open. If you can't please them you won't be in business."
It's that simple philosophy that has made Ace Postal Center such a success.
Originally from California, Bonzi and his wife Teresa moved to Sunnyside in the late 1990s to manage Ace Postal Service. Bonzi's father-in-law is the owner of Ace Hardware in Sunnyside and Bonzi said the postal store was something the Ace Hardware owner thought would be beneficial to Sunnyside residents.
"We were offered a shot," Bonzi said of him and his wife managing the place.
And for the past one and half years the Bonzis have slowly began taking the store over and someday soon will own it.
But until then Bonzi goes on with his everyday activities at Ace Postal Center.
So just what goes on there? According to Bonzi, they sell everything except used cars. He's joking of course but his point is that just about anything can be found at Ace Postal Center.
Are you looking for that long lost whoopee cushion? Look no further than Ace Postal Center.
"We try to provide printing, mail shipping, faxing, money orders, money transfers and mail boxes," Bonzi said.
That's just a few of the services and items offered at Ace Postal.
"The most important thing, of course," he said, "is providing great customer service."
The gifts and the novelty items are good but Bonzi gets most of his business from shipping. Ace Postal Services offers its customers the services of UPS, Federal Express and even the post office.
But unlike these places, Bonzi, his wife and the one other employee at Ace Postal Service will pack the items to be shipped, as well.
Bonzi recalled a customer who came in with a small scooter to be shipped. With the size of the scooter it needed to be sent in a 73 lb. package, which would have cost approximately $60.
Bonzi recommended breaking down the scooter and after that was completed the scooter fit into a 5 lb. package, which only cost $15 to ship.
It's small gestures like this that Bonzi points to when he talks about customer service.
"We're always looking out for our customers," Bonzi said. "She would have been charged so much more but some suggestions save our customers money."
That's important to Bonzi and his staff. To them, customer service is everything.
He'll also make sure a package is packed just right to ensure its safety. If a customer brings in a package already packed, Bonzi will make any suggestions he thinks will help. Sometimes he's been known to add extra packing at no charge just to make sure the package arrives safely.
Ace Postal Service also offers paper supplies, stationary and copying. People from as far away as Mattawa and Bickleton use his services.
He loves his job, he said. A day in the life of Bonzi at Ace Postal Service is like a snowflake. No two are the same.
"Sometimes it's packed and sometimes it's slow, it's never the same thing," he said.
He calls Ace Postal Center a unique little store in Sunnyside that really does have something for everyone. And any customer should know that they will be looked after by the staff at Ace Postal.
"We know times are tough," Bonzi said. "We try to look out for our customers and help them stretch their dollar.
"Our customers will get great customer service from knowledgeable staff. We go above and beyond what others will do."