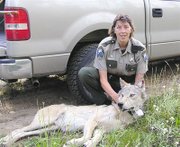 A vital link in Washington state's eco-system or a lethal threat to livestock?
That's the debate as Washington state considers a preferred proposal to expand the gray wolf population here.
In Washington state, the gray wolf is currently listed and protected as endangered under the federal Endangered Species Act and state law.
Under the proposal, the goal is to see wolves expand to at least 15 breeding pairs, at which point the state would no longer deem them an endangered or threatened species.
Currently there are only two confirmed breeding pairs in Washington state. But, there are also reports of individual wolves here.
Gary Wiles is a wildlife biologist with the Washington Department of Fish and Wildlife. He is working with the department on the wolf issue and said the focus is on wolves migrating here on their own.
"There's a lot of feeling out there that we have brought wolves into the state," Wiles said. "We have not done that. We're not jumpstarting the population by any means. Wolves are moving naturally into the state."
The wolf population has grown in Idaho, Montana and Wyoming to the point there are almost 1,500 wolves in those three states combined.
"The catalyst for the plan is we have wolves coming into the state in larger numbers," Wiles said.
Given the animal's normal traveling range of 100 miles or more a day, state officials want a management plan in place before Washington's wolf population grows.
The preferred wolf plan was developed over a period of almost two years with a working group of 17 volunteers representing a cross-section of interests - from environmental groups to ranchers.
The entire gray wolf draft is available online at http://wdfw.wa.gov/wildlife/management/gray_wolf/
A public comment period on the plan ended Jan. 9.
Despite the attempt at buy-in from all sides of the debate, Wiles says Fish and Wildlife received a large number of comments and almost all were from people on either extreme.
"One side wanted a lot more wolves and thought the state could handle more wolves. They want wolves back so they can see them while recreating," Wiles said. "The other extreme is no wolves in the state or for a reduced option because they think wolves are bad for cattle and the deer and elk population."
You can count Jack Field among those who lean toward the latter side of the debate.
Field is executive vice president of the Ellensburg-based Washington Cattlemen's Association. He also served on the wolf working group.
He and about a half-dozen members of the group are advocating a proposal that would call for a minimum of eight pairs instead of the 15 under consideration.
Field noted federal efforts in Idaho, Wyoming and Montana called for a minimum of 10 breeding pairs.
"We're looking at five more than the federal government thought was needed and we don't have the habitat those states have," he said.
Field feels the proposal has disproportionately more negative impact on those who grow livestock.
That would include Marshall Anderson, who raises 400 head of Hereford and Angus at a cow-calf operation at the end of Sheller Road between Sunnyside and Prosser.
Anderson's ranch is a sprawling 20,000 acres and its northern boundary borders the Hanford Reservation.
He's concerned wolves would be drawn to the Hanford area because of a large elk herd there.
"It would be like turning someone loose in a steak house," the third generation rancher said.
Anderson is worried about wolves wandering so close to his ranch.
"It would mean the death of my cattle," he says. "It would be economically devastating."
Anderson is not appeased by the proposal to pay ranchers compensation for cattle lost to wolves.
"That sounds good on a piece of paper," he says. "First of all you have to get game officials involved and they have to research it and document it."
Field isn't even sure state legislators have the stomach to budget money for estimates as high as $800,000 a year in wolf-kill compensation.
"Given the budget situation, I think it is highly unlikely," Field said of compensation.
State legislators would need to approve a budget for the wolf proposal in 2011 if the Washington Fish and Wildlife Commission approve it later this year.
Bob Tuck of Selah hopes the wolf plan gets the green light.
He's a former fish and wildlife commission member and served on the wolf working group.
While he would like to have seen the plan call for more wolves, he thinks it's a workable framework.
"In the context of putting together a plan that successfully appeals to the broadest spectrum of interests, I think it's a good plan," Tuck said. "It's not going to contain everything that everyone wants."
He notes the preferred plan is a work in progress, that it is flexible if the minimum wolf numbers don't work.
The bottom line, Tuck says, is Washington needs a management plan because the wolves are coming.
"I've advocated the state get ahead of the curve and get a plan going before the wolves arrive," he said. "It's far better than waiting until after they cause a problem."