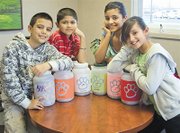 Philanthropy knows no age limit.
Just ask Desmond Rodriguez, Janeth Nunez, Manuel Birrueta and Samantha Herrera, four Pioneer Elementary School students engaging their school in an effort to make change in Haiti with a campaign they dreamed up called "Change for Change."
Galvanized by the Haitian earthquake, Rodriguez and Nunez say "Change for Change" is their brainchild, created with a mixture of things they've learned in school and seen on the news.
"We heard and saw what happened in Haiti," says Rodriguez. "All the pictures we saw, it was just terrible...we wanted to help them." Finishing his sentence for him, Nunez interjected, "Because we felt bad. "
Rodriguez and Nunez quickly set about enlisting the help of Birrueta and Herrera.
Birrueta says he learned about a man who visited a foreign country, promised to help build a school there some day, and, through that, the project "Pennies for Peace" was born.
"We want to do the same thing in Haiti," Rodriguez said. Nunez added, "Yeah, except we can't build. We don't know how, us four."
The four fifth graders then trekked to principal Kris Diddens office, who quickly gave her blessing for the youngsters to appeal to fellow students at the school to bring spare change in from now until Feb. 11.
The four gave presentations to each grade, with Rodriguez delivering the introduction, Birrueta talking about the earthquake, Nunez explaining the "Change for Change" program and Herrera detailing the incentive for participating.
"The reward is a certain grade wins and on their P.E. day, they get to pick their own fun activity. They get to be teacher for the day," Herrera said.
When it came to figuring out where to send the money, Rodriguez said he heard about Red Cross on television. "I saw on T.V. they say text a certain number to donate to the Red Cross." Birrueta added, "I know the phone number by memory, it's 1-800-RED-CROSS!"
This past Monday, the four of them outlined their campaign to their peers.
Within 24 hours of appealing to fellow Pioneer Elementary School students, the four had filled three and a half jugs with donated spare change.
The children say they've enlisted the help of American West Bank to help count the change and write the official donation check that will be sent off. "Hopefully it'll be a big check like the ones from the casino!," enthused Birrueta.
The four philanthropists say they just want to help the people of Haiti heal following the earthquake. Each one feels compassionate toward their fellow human beings.
Rodriguez said he's certain they feel sad. "Really, really sad because their homes got destroyed. If they had games, their games got destroyed because their homes crushed them.
"So many people have died, moms, dads, brothers, sisters, aunts, uncles and cats and dogs, too. Maybe they've lost family members or pets."
Herrera said, "I think they're scared because they're still alive, but they see other people dying. What if that was you?"
Birrueta, usually the clown of the group, says somberly, "They must be feeling sad because some kids must have lost all their family and if they have no family, they have to go to an adoption center. Or they don't have nowhere to sleep right now with a roof."
Nunez said, "I think they feel horrible they lost their family members.
"They might also feel hungry and they want food for children that survived."
The fifth graders encourage those in the community who feel compelled to donate to come to the school and bring spare "Change for Change."