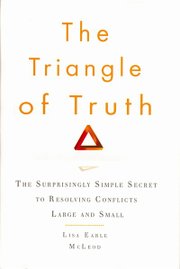 When first given a copy of Lisa Earle McLeod's "Triangle of Truth: The Surprisingly Simple Secret of Resolving Conflicts Large and Small" book to review, I was almost giddy-I'm a huge fan of the wit and wisdoms she sprinkles throughout her columns that appear in the Daily Sun News most Fridays.
The reality when I began to read her book, though, was disheartening.
I'm put off by car salesmen schlepping things just as much as I am by a persistent clerk at the mall earning commission. Unfortunately, Earle McLeod comes off in just such an irritating manner, perhaps even more so because I was already a fan.
The introductory chapter, 'What Do Mary Kay, Buddha, and Elvis Know That You Don't?" is where the schlep-fest begins. And by that, I mean even in the title...leave Elvis out of it!
What's wrong with her methodology is Earle McLeod drags out her point in each chapter of the book. Her hook lines in the introductory are each their own paragraph; "Mary Kay Ash made it the foundation of her business and created a cosmetics empire." She waits to give you what "it" actually is.
Ultimately, Earle McLeod gets around to telling you what "it" is, but for column fans like me, it's too little, too late.
It's not to say I don't find value in some of what she says. She says many people are "either/or" thinkers, which creates limitless frustration (I agree), that people become so embroiled in their righteousness they move away from resolution (I agree), that people who disagree with us ultimately help us more than hurt us (I agree).
Truth be told, I underlined sentences in this book that packed a punch for me, sentences I could pull out one by one and journalize about for hours.
But her "Triangle of Truth" model is sold to the reader as though it's a car that's not a lemon, which is the absolute opposite of how she delivers her columns: in a very real, personable and funny way.
If you're a fan, steer clear of her book, as she takes forever to make her point and comes off as though she's making a sales pitch in the process.
More like this story