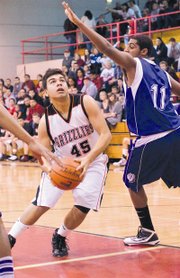 Bouncing back from a tough loss is always hard to do but the Sunnyside Grizzlies were up to the challenge this past Friday as they mauled the visiting Pasco Bulldogs boys basketball team 66-48 in CBBN Columbia Division play.
The win keeps Sunnyside in second place with a record of 8-3. Overall, the Grizzlies have compiled a record of 12-5 for the season.
Sunnyside jumped all over the Bulldogs in the first quarter as the Grizzlies built a 16-7 lead.
"We were able to play consistent defense and that limited Pasco to just three field goals in the first quarter," Sunnyside Coach Ron Rowe said.
The Bulldogs made some adjustments in the second quarter and were able to keep pace with Sunnyside but couldn't chip away at the Grizzly lead.
Alfredo De La Barrera and Israel Manzo combined for 11 points in the second period and Sunnyside led by 10 points, 33-23, at halftime.
That's when the Grizzly defense went to work on the Bulldogs' leading scorer, Steven Ponce. The 6'4" power forward was limited to just three points in the second half and Sunnyside increased its lead by five points in the third quarter, 48-33.
"We were able to get a lot of open looks," Rowe said of his team's second half play. "We did a good job of moving the ball around. Our rebounding was real strong at times."
Pasco made several attempts to get back in the ball game in the fourth quarter, cutting Sunnyside's lead to nine or 10 points, but the Grizzlies always fought off each charge.
Sunnyside was led by Israel Manzo with 25 points. De La Barrera added 20 points to the Grizzly cause and grabbed eight rebounds and dished off three assists.
James Sanchez scored eight points for Sunnyside and teammates Jordan Esqueda and Jacob Bos each had four points. Esqueda also had four steals and four assists. Bos added 10 rebounds and two assists to his stats.
Chance Graff had three points and six rebounds for the Grizzlies and teammate Andrew Daley added two points.
Ponce led the Bulldogs with 15 points. Mike Elozondo had nine points for Pasco, including seven in the fourth period. Brandon Search had nine points, Jordan LeMieux scored five, and Devon Wright-Lamb and Louis Sims added three points each.
"It was a very good overall effort," Rowe said.
Sunnyside will host Wenatchee on Tuesday, Feb. 9, at 7:30 p.m.