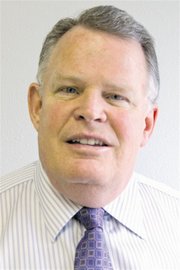 For those in Sunnyside wondering about all the recent rainfall, look no further than the city's new finance director, Bryon Olson.
"This is my eighth day in Sunnyside and the seventh day of rain," the former west-side man joked. "I guess I brought it with me."
Olson has spent the past 25 years working in Tacoma where he was the chief financial officer of Metro Parks in Tacoma. He was recently hired to run the city of Sunnyside's finances.
Olson took the roundabout way when he got into finance. He spent time working in the theater on Broadway in New York City in the early 1970s before eventually making his way to Washington state, where he spent time as a professor at the University of Puget Sound.
"That was a real eye opening experience," Olson said of his time on Broadway. "Everyone should visit New York at least once."
Olson eventually earned his MBA from the University of Puget Sound and began working at Tacoma's Metro Parks in 1982.
In the 25 years of working there Olson said he went through big growth cycles and also had to deal with hard economic times. During the late 1990s money received from property taxes took a huge hit and Metro Parks went through a period of downsizing and restructuring.
It is safe to say that Olson has seen the best and worst in the financial world in his 25 years at Metro Parks.
After leaving his job there Olson began doing consultant work but soon realized he missed working with local government.
"I didn't know it until I had left," he said.
He was encouraged by a friend to look at Sunnyside and was told the city could use someone like him with his experience and skills.
"I wanted a challenge and an opportunity to make an organization better and stronger," Olsen said. "Sunnyside was attractive on that account."
Olson is also used to living in rural areas, although he's spent the last 25 years living and working in Tacoma. Olson is originally from North Dakota.
"The rural experience isn't foreign to me," he added.
As far as the financial situation in Sunnyside, Olson said there is always work to be done. He does see some strength in Sunnyside right now, noting that the community isn't as over-extended as others in the area.
First things first, Olson said he must come up with a list of everything that the city wants to do. From there he will start at the top. He said there will be some immediate changes and some that will be implemented more slowly.
Noting that there has been a lot of turnover and turmoil at city hall, Olson said the first thing to be done is stabilizing the organization. He said policies and procedures are already being looked at that will tighten controls and give everyone a clear picture of what is expected of them.
As finance director, Olson will oversee several departments, including finance, human resources, IT and the municipal courts.
One significant task facing Olson is finding out a way to best collect millions of dollars in unpaid fines owed the Sunnyside Municipal Court.
He wants to get a feel of what the city issues are before he recommends any changes.
"My goal is make sure services that are delivered are as good as any city in the state," he said.