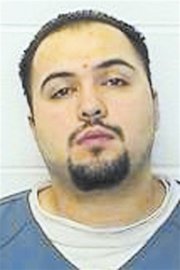 The Sunnyside Police Department is seeking information leading to the arrest of Richard Bermudez, 27, and Crystal Navarro, 24, both of Sunnyside.
The pair is wanted for assault with a firearm after police were called to the 800 block of Ismo Loop last night (Sunday) that occurred just before 10 p.m.
According to police reports Bermudez and Navarro walked up to Nick Medelez, who was standing at the location of the incident. One of the suspects had a gun and fired a shot, missing the victim's head. A second gunshot was fired into the air.
Medelez was not treated for minor injuries he sustained at the scene.
Bermudez is believed to have been driving a 1999 Volkswagon Passat, license plate number 307-YJI. Navarro, say police, was a passenger in the vehicle.
Bermudez is considered by police to be armed with a large semi-automatic handgun used in the incident.
Anyone with information leading to the whereabouts of the suspects is asked to call the Sunnyside Police Department at 836-6200.