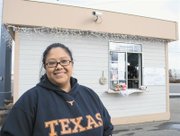 What's unique to Jem's Coffee Corner, located on the corner of South First Street and West South Hill Road, is the way the baristas decorate beverages.
That's according to Irma Reyes, who runs the Sunnyside business for owner Cynthia Nava.
She said Nava was a hairstylist at the former Jem's Gift Shop, Coffee House and Scissor City hairstyling salon.
Reyes shared Nava's choice in naming the coffee stand had much to do with her desire to be different. Because the "Jem's" name was no longer in use, it fit with the way in which Nava has her baristas decorate beverages topped with whipped cream.
"We use colored whipped cream...we like to make them pretty, using candy and nuts depending on the customer's preference," shared Reyes.
Jem's Coffee Corner is open Monday through Saturday from 6 a.m. to 6 p.m.
The baristas, who include Reyes, Rosio Flores and Aracely Villalobos, serve lattes, smoothies, chai teas and other flavored beverages. They also serve quick breakfast foods, such as bagels and muffins.
"Our smoothies are unique because, instead of pre-mixes, we like to use fresh ingredients," Reyes shared, adding the prices at the coffee stand are comparable to those of other coffee locations in Sunnyside.
"We also believe in always providing service with a smile," she added.