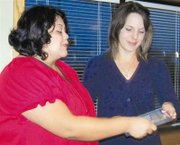 Melissa Sanchez is the recipient of the Lower Yakima Valley Soroptimist Club's "Women's Opportunity Award" for 2010.
The scholarship amount is for $1,300.
Sanchez became the primary wage earner for her family when her husband had a severe work related injury that forced him to leave his job and undergo life-changing surgery. Due to his disability, he is unable to return to his previous employment.
After assessing their situation, the Sanchez family decided to move from Quincy to Yakima so she could attend Perry Technical Institute. She worked two jobs in order to save the money to make the move to Yakima.
Melissa has been accepted to Perry Tech and began school in September. The couple's long term goal is for both to attend Perry Tech.
"Even though times have been hard and sometimes it seems the things my children need are the things we cannot provide, I wake up each morning knowing that all this hard work and the endless days will pay off," said Melissa Sanchez. "Without my husband and his dedication to me and my education, I would not be able to succeed."
She noted despite 30-hour work weeks, she still finds the time for her studies. "I look forward to the end of this 18-month program when I will become a better person and a more qualified employee to enter the workforce in a career path that will provide security and sufficient income for my family.
"I also hope that our struggles as parents will show our children that education and hard work will pay off, and goals are something to utilize and implement in your life."
The Lower Yakima Valley club is part of Soroptimist International.