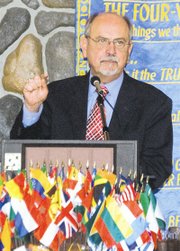 U.S. Congressman Doc Hastings, representing Washington's Fourth District, spoke to the Sunnyside Noon Rotary Club yesterday (Monday) where he addressed issues such as health care, massive spending, and cap and trade.
Hastings told the Rotarians that in the last year he has experienced something he never thought he would, which is the massive spending by the federal government.
The Republican tried to put the spending in perspective. Hastings said that since the 1950s the ratio of federal spending compared to the nation's gross domestic product number has historically hovered around 20 percent. That number fluctuates, he said, between a percentage point or two, one way or the other, but has always stayed in that range.
Thanks to the surpluses of the Clinton Administration the number was 18 percent when George W. Bush took office. Hastings said that the surpluses were used to pay down some of the national debt.
When Bush left office in 2009, the country had gone through 9-11, was still fighting two wars and was on the brink of a depression. Still, Hastings said, the ratio was at 21 percent, still within the historic number of 20 percent.
Hastings said he wasn't sure if the TARP bill signed by former President Bush was included in that number.
But what is clear is that number is sitting close to 28 percent after President Barack Obama's first year in office.
"That's an approximate 33 percent increase," he told Rotarians.
With the expected price tag of the two health care reform bills in congress and the senate estimated at $1 trillion and President Obama's proposed $3.8 trillion budget, the number could rise even higher, he added.
"Some say as high as 40 percent," Hastings said.
Hastings said that one-third of the President's budget will be funded from borrowed money.
"Where is this going to come from?" he asked. "We'll be passing it on to two to three generations down the road."
He said the tea-party movement is a reaction to this spending.
"We are spending money and borrowing from our children and grandchildren like I've never seen before," he said.
Hastings is hoping the two health care bills now sitting in the senate and the house are dead. He said the election of Republican Scott Brown to Ted Kennedy's vacant senate seat sends a very strong message that Americans are not happy with the proposed health care legislation.
The Massachusetts's senate seat was held by a Kennedy for more than 50 years and was thought to be a shoe-in for a Democrat.
Hastings approved of Obama recently asking for ideas from the Republicans but doubted the president would embrace any of them. He spoke of one idea that would help lower the costs of health insurance, which would allow insurance plans to cross state lines.
"If people don't have insurance the best thing to do is to expand the insurance pool rather than restrict it," he said.
Hastings said he voted against the recent cap and trade bill because he sees it as nothing more than a tax on energy.
"Cap and trade picks winners and losers," he said. "The winners are only renewable energies."
He added that it would be fool-hearted to ignore fossil fuels. Hastings noted that the United States imports two-thirds of its crude oil and 20 percent of its refined oil. That's a number that isn't good for America's national security interests.
Hastings was asked by the Daily Sun News if thought the President's recent remarks in his State of the Union Address about opening more off shore drilling and renewing the construction of more nuclear facilities in America would ever bear fruit.
"Actions speak louder than words and what the President said were just words," Hastings said.
Hastings said he was happy to hear the president speak about those topics but noted Obama also said he was going to shut down Yucca Mountain, where nearly all spent fuel rods are stored.
He questioned how the president can talk about expanding nuclear power and closing Yucca Mountain in the same breath.
"It sends a mixed message," he said.
He also cited a decision by the Secretary of the Interior to suspend 77 drilling contracts in Utah. Seventeen of those contracts were eventually reinstated. When Bush ended a moratorium on drilling on the outer continental shelf, Hastings noted that the Obama administration has basically put off looking into this and the subject probably won't be revisited again until 2012.
"His actions are contrary to becoming energy independent," Hastings added.
Hastings was also asked briefly about illegal farm labor and if anything is going to be done to help the farmers that rely so heavily on them.
Hastings said that what is needed is a workable guest worker plan but he doesn't see anything happening along those lines this year.