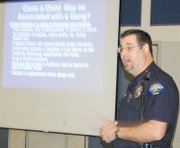 GRANDVIEW - Grandview Police Officer Rob Colley identified what community members need to know about gangs to an attentive audience of about 50 residents last night, Tuesday.
Colley tackled the issue of when to begin anti-gang work with children.
For police in schools, the age is fifth grade. "But it should start as soon as they hit first or second grade," he said of parental involvement.
One way police identify gangs is through social networking sites like Facebook and MySpace. "If they're going to put it up there, we're going to use it," he said.
Colley said gang members are beginning to understand the police department makes note of self-proclaimed gang members for tracking purposes and that courts have determined the hand signs as gang activity. For that reason, he said, they will black out their hand signals in social network photos.
Colley took a moment to explain graffiti to the crowd, and noted some of what people see about town is not done by typical gang members, but by newer gangs that are sprouting up, some of which are comprised of kids who have no criminal history.
Colley said if a person can be identified on graffiti through a moniker, "We can go after them and prosecute them."
Graffiti left unchanged or unmarked re-affirms gang control in a particular area, he said.
Colley was asked how well Lower Yakima Valley law enforcement agencies communicate with each other regarding any type of gang activity. "Sunnyside, Prosser and Grandview are all linked together," he explained, noting contact is frequently and rapidly made when anything new springs up.
Colley said some gang members have expressed disgust toward police because they feel harassed. "They say, 'You're stalking us, you're going after us'," he said.
"We make it unbearable for them to stay here and we're going to continue to go after them, prosecuting them to the best of our ability, and getting them out of our town," he said.